Visions from afar: Jellicoe's Motopia
Landscape journal
Essay
2019

This article originally appeared in the journal Landscape, Issue 3, 2019, which you can read online HERE.


---
In 1516 Thomas More published his imaginary other-world, Utopia. It opened with a map by Ambrosius Holbein, a diagram of the island prefiguring More's description of the spaces, politics and ethics, beginning a 500-year tradition of visualising ideal futures. It made sense for More to commission the map, his was a time of new spatial understanding. Vespucci and Columbus were charting oceans, while Copernicus was developing heliocentric theories repositioning earth in a wide black sea. Though it was not a map to be read literally so much as a diagram spun from the few geographic references More revealed, at once offering a form for his politics and social satire to shape around and present some essence of possibility. Utopia, though the name derived from Greek οὐ and τόπος, literally "no-place", wrapped around this diagram to give credence and visual veracity.
In 1959, Geoffrey Jellicoe developed More's
Utopia
, replacing
"no"
with
"mo"
, with
Motopia
, the new prefix suggesting the
mo
tors his superstructure served as well as a progressive
mo
bility and
mo
dernism of the day. A provocative proposal for a new-town theoretically sited north of Staines where complex threads of the River Colne weave through marshes, Motopia was a vast grid of five-story residential blocks with a rotunda at each lattice intersection. Inspired by Le Corbusier's residential piloti-raised blocks over a continuous landscape, his array was to "lie lightly upon the natural landscape", itself offering a mix of fertile agriculture, hardwood forests, pleasure parks interspersed with canals, and dotted with schools, clubs and restaurants.
[cover of

Motopia: A Study in the Evolution of Urban Landscape

, by Geoffrey Jellicoe]


Jellicoe had studied at the Architectural Association two years after it moved to its current home, and cited Bedford Square as inspiration for Motopia's gridded form of apartments with dual-aspect views over his reinterpretation of the Georgian square. However, as Jellicoe always looked to natural and man-made historical testimony for landscape rationale, so he projected into the future for conceptual reach. The most radical element being to raise all Motopia's roads above the architecture on a "roof road" grid, a roundabout atop each rotunda smoothing traffic flow with a spiral ramp to car-parking one level lower. This was a modernist system of order designed not to tackle increasing problems of urban congestion but a new model for living on new sites, encapsulating not only utopian physicality but, as with More, also social contracts and ethos of place.



Motopia originated as a 1959 advertorial in the pages of Architectural Review, designed by the Glass Age Committee, a pre-war project devised by Pilkington Glass for a panel of designers to "suggest solutions to certain problems of town planning", using "all the structural and decorative resources of the Glass Age". Jellicoe joined the 1950s incarnation of the project alongside Edward Mills and Ove Arup, their double-page spreads designed to draw architects' attention to modern Pilkington products with theoretically possible - but extremely unlikely - fantastical propositions.1
[advertorial designed by Geoffrey Jellicoe & the Glass Age Committee for Pilkington Glass, published in the Architectural Review, 1959. © Architectural Review]



Other playful ideas in the series included: Vauxhall's Crystal Span habitable bridge; Skyport 1 airport atop three skyscraping tubular shafts; Sea City, a hovercraft-accessed floating mesh of housing and employment anchored off Great Yarmouth, and a 1954-55 scheme for an "economically fruitful" Soho erecting glass residential towers looking down onto a vast concrete "garden level" platform of with glass-bottomed canals dappling light down onto the existent streets at ground level below.


[advertorial designed by the Glass Age Development Committee for Pilkington Glass, published in the Architectural Review, 1963. ©Architectural Review]


The three London projects of Soho, Vauxhall and Motopia most frequently recur in popular media, usually encountered as image and hindsight heavy What London Could Have Been clickbait. But they were never serious proposals, Jellicoe himself asserting Motopia as "diagrammatic only". His drawings and model photographs acted as twentieth-century updating of Holbein's Utopia map, a visual render around which he could wrap thoughts of future responses to political issues of transport and housing. But his visual images linger in a digital world, distance giving a sense of legitimacy to what was really promotional marketing and ironic exuberant fun.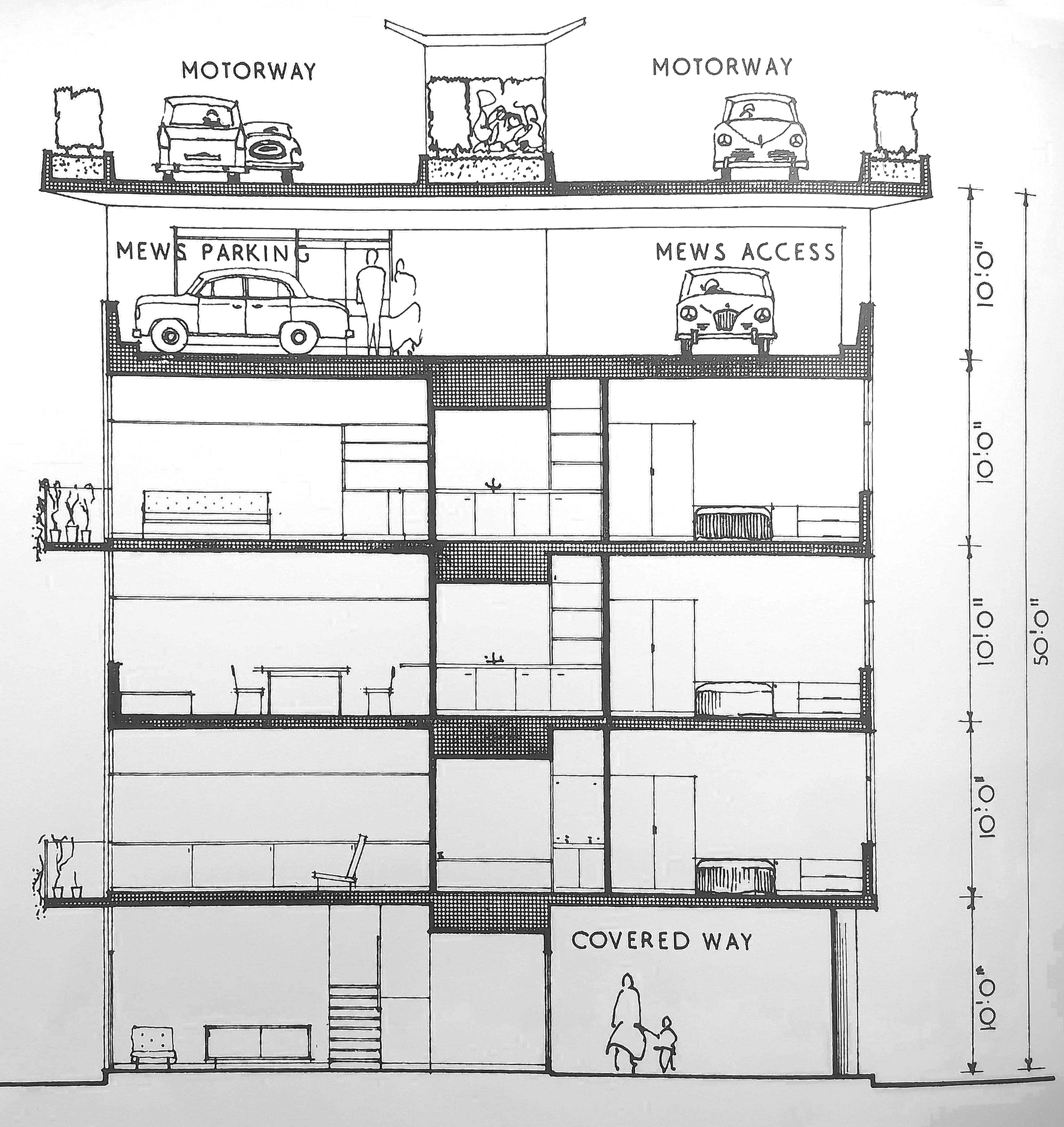 [sectional drawing of Motopia, by Geoffrey Jellicoe in

Motopia: A Study in the Evolution of Urban Landscape

]

A reason Motopia is a prime subject to be read as a nostalgic "near-miss" is in part due to Jellicoe's mode of presentation. He followed the double-page ad with, Motopia: A Study in the Evolution of Urban Landscape2, a book adding context, theory, sections and plans, architectural models and text akin to a formal project. Though, within the words and images Jellicoe laid clues that he saw this as an imaginary scheme with More-esque satirical self-awareness.



A fine line exists between utopia and dystopia. More was aware his no-place was not only one which didn't exist due to its being fiction, but could not exist due to a requirement of non-utopian totalitarian oppression, violence and control. His island was worked by chained slaves, promiscuity outlawed, bureaucratic population control saw people relocated on a whim, individual rights subjugated to demands of the economic system. In Motopia residents listening to the wireless are instructed to close windows to avoid sound pollution and that the top floor of the town's tallest block is the "council suite", watching the city with panoptic gaze, home to the "watchful eye of the traffic administrator" opening and closing roads facilitating smooth mobility. Jellicoe nods towards More's satire in an imagined interview with a traffic administrator who states bicycles are prohibited from Motopia as "an anachronism in the modern world".



[

First City: 2,000 Ton City

, from Superstudio Series 1971. Collection Waker Art Center, Minneapolis Art Center Acquisition Fund, 1975]


Looking back, other utopian diagrams of the period are read as the radical manifestos they were, not as serious proposal. With Archigram's Plug-In City, Constant Nieuwenhuys' New Babylon, or Archizoom's No-Stop City, we acknowledge the presentation of conceptual statements. Superstudio's First CIty: 2,000 Ton City, from their 1971 Twelve Ideal Cities, visually relates to Motopia. A far-reaching grid of slender architectural walls forming a vast landscape-enclosing grid, hills and lakes framed rectilinearly. But due to its clearly provocative sci-fi conflation of utopia, dystopia, and irony, framed as a conceptual art project it isn't perceived with the same "near-miss" nostalgia of Motopia.

An equally playful and unrealistic speculation on the future of urban living was Yona Friedman's 1960 Paris Spatial: A Suggestion. A new urban fabric of structure sitting on stilts above the historic city, the Haussmann plan under a lateral scaffold interchangeably enclosing housing, agriculture, transport and employment. Friedman's illustrations consisted of sketches over photography, bright orange graphically highlighting his radical proposition. Jellicoe employed the textual and aesthetic approach of a commercial architect, not such pop-art dayglow colourisation.


[Spatial City Project: Paris, 1959, collage on postcard by Yona Friedman.]


Two years after Jellicoe's book, Peter Hall's London 2000 was published. His serious proposition for organising the capital city for the coming four decades, tackling the issues of Abercrombie's green belt, urban motorways, housing density and the future of work. The dry, architectural imagery Jellicoe employed is much more akin to Hall's visual language than the exuberance of the subversive utopian radicalism with which it has more in common conceptually.

Seductive photo-realism of today's CGI rendering is now the de facto mode of architectural representation, replacing sketches, models and diagrams in public dissemination of design. Practitioners of every level can produce sublime as-built imagery of any half-baked idea, their function as diagram dissipating as soon as they are coated in a veneer of reality, space for public interpretation and experiment limited. Our current political and developer-led urban design also employs such imagery, similarly disempowering public imagination. Four decades of neoliberalism have already limited scope for imagined social futures, other than those permitted as by-product of capital, even before developers manipulatively borrow from 500 years of utopian aesthetic to give one-liner marketing images a glow of greenery.

Developers have an art in layering speculative projects with biophilic references, suggesting balconies draped in vines, once tarmac streets flooded with nature, glorious hyper-realistic renders of a maintenance-free, eternal-sunset melding of urbanity and nature.3


[

The Garden Bridge

, by Thomas Heatherwick. ©Heatherwick Studio & Arup]

In June 2013 The Garden Bridge, draped in sunset. Utopian imagery presented not as diagram for debate, but as a fait accompli solution to a problem we never knew existed. This image is propelled by Instagram-friendly designers more interested in capturing utopian aesthetic tropes to market luxury, rather than as a considered response to an environmental emergency.


Such paint-on greenery fuels a market still requiring relentless destruction of the environment and existing urban fabric as it squeezes capital but with vines.
appeared in the Evening Standard with impressive digital clarity as a fully formed and ready to construct scheme.

This is an imaginary of place propelled by Instagram-friendly designers more interested in capturing utopian aesthetic tropes to market luxury, rather than as a considered response to an environmental emergency. This paint-on greenery fuels a market still requiring relentless destruction of the environment and existing urban fabric as it squeezes capital but with vines.

The more that speculative futures such as the Garden Bridge are presented to the public without consultation, presented as polished deliverables rather than starting points for collective discussions and - most critically - as "green" projects when serious ecological action is demanded, the more utopia is diminished to shallow add-on to market a project.

I would imagine that if Jellicoe were proposing radical urbanism today, his attention would most likely not focus on traffic management but to our singular pressing issue: climate breakdown. For away from the clickbait images of roof roads and manmade grid superimposed over topology and landscape, there are clues indicating a collaborative approach between landscape and architecture. His approach to "lie lightly above the natural world" is one we must absorb more now than ever, as the consideration of nature and landscape as a ground-level starting point for urban design.

If we read Motopia as a diagram, and not as literal proposition, then we can draw from it some of Jellicoe's serious understanding of how landscape relates to urban functions and form.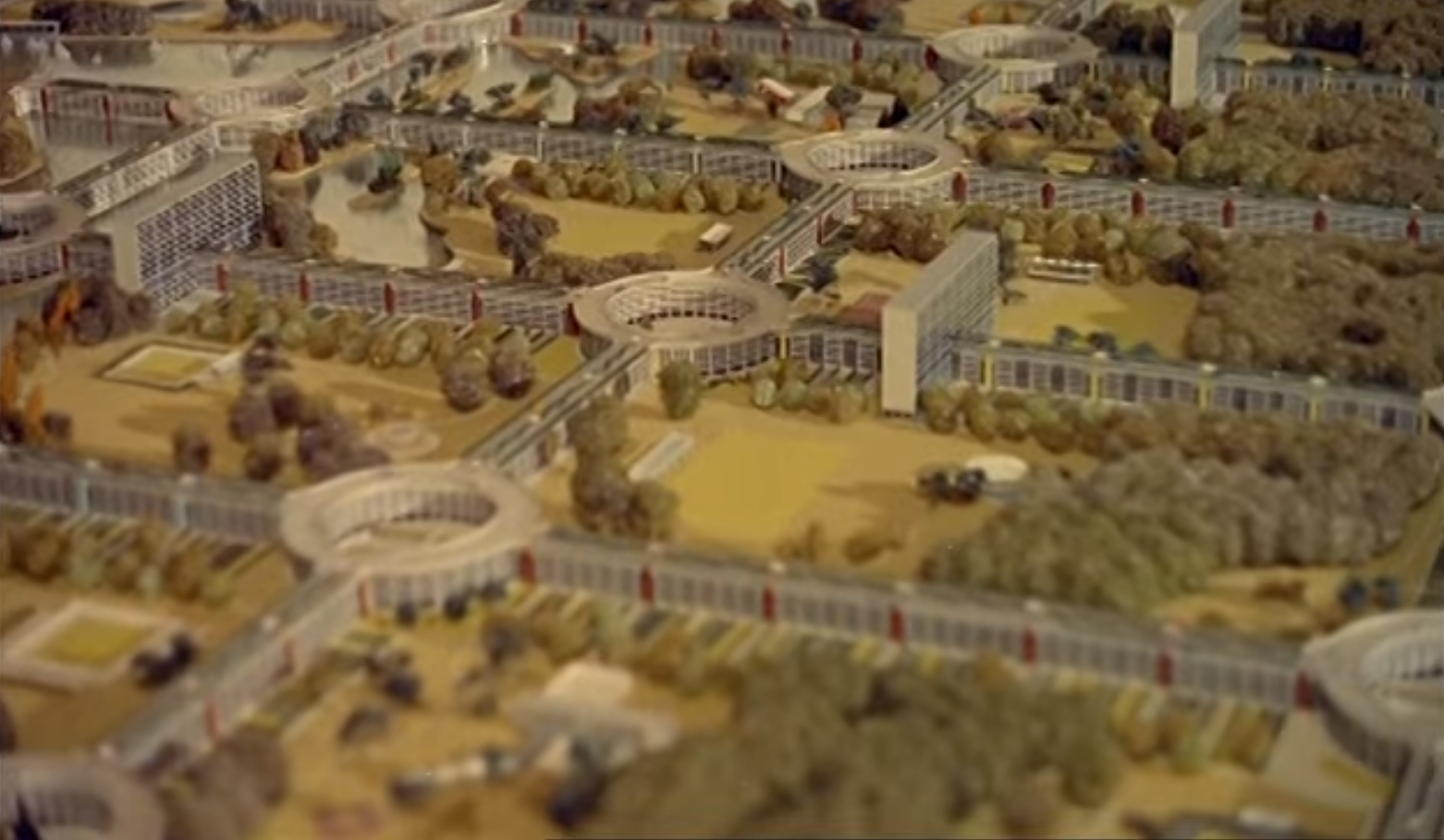 [model of
Motopia
by Geoffrey Jellicoe & the Glass Age Committee, from Glass City of the Future, British Pathé, 1959, viewable
HERE
]
---

1 See Stephen Parnell, In Praise of Advertising, Architectural Review, 5 February 2014. Available HERE.

2 Geoffrey Jellicoe, Motopia: A Study in the Evolution of Urban Landscape, London: New Studio Books, 1961.

3 See this recent post by Tim Waterman on a typical clickbait halcyonic image of London's green future, What's Wrong With This Picture?, 24 October 2017. Available HERE.